PILA-BALDE

SYNOPSIS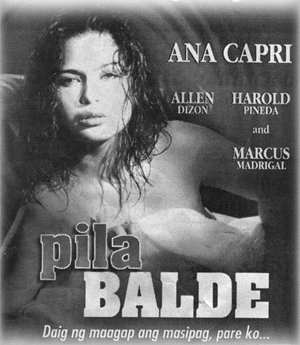 The film tackles a slice of life a slum community located around a middle-housing tenement. Representing this community is the pretty 18-year-old slum girl Gina who ekes out a living by selling fried bananas around the area and helping her Grandma Cion do laundry jobs for the tenement residents. With her mother dead and her father in prison for armed robbery, Gina serves as surrogate parents to her brother Boyet (14) and her sister Maria (10).
Entertaining dreams a better future, Gina rejects the amorous intentions of ardent uitor Nonoy whose vices and nefarious activities include gambling, drugs and pimping, in favor of the student Jimboy, a tenement resident and the son of Mrs.Alano, a wealthy usurer. Nonoy is more sincere in his intentions than his better off rival Jimboy who is only after an easy lay but Gina is determined not to marry another slum dweller.
CAST
Allen Dizon
Harold Pineda
Marcus Madrigal
Ana Capri
PRODUCTION CREDITS
Director Jeffrey Jeturian Story and Screenplay Armando Lao Cinematography Shayne Clemente Editing Roberto Vasadre Music Jay Durias Production Design Ronnie Cruz
DIRECTOR'S NOTE
Fetch a Pail of Water is a small movie. It is small in the sense that the universe of the poor is limited to their dreams They may aspire to escape from the stench and deprivation that make up their daily, but the real possibilities their liberation are quite few. Understanding the Filipino poor through the eyes of a filmmaker can be quite a challenge. And this is may hope to share with the world the universe of the suffering of a great number of my countrymen.
COMPETITION
23rd Goteborg Film Festival, Sweden, 2000
13th Singapore International Film Festival, 2000
2nd Bratislava International Film Festival, Slovak Republic, 2000
Febiofest 2001 Prague, Czech Republic,
3rd Far East Film Festival, Udine, Italy, 2001
AWARDS
NETPAC Jury Award, 1st Cinemanila International Film Festival, 1999
Best Actress - Ana Capri , Cinemanila International Film Festival, 1999
Gold Award, 2000 Worldfest Film Festival in Houston, Texas, 2000
One of the Ten Best Films of the Decade(1999-2000)

URIAN 2000
Best Screenplay
Best Production Design